As the socio-economic growth of the Indian populace continues, the number of people migrating to and settling in Tier 1 and Tier 2 cities in pursuit of a better living is exponentially increasing. Consequently, this influx of people has taken a toll on cities' existing infrastructure that one could say was 'not/ill-prepared' for it.
For one, traffic congestion in urban areas has become a serious cause for concern, especially in the case of rapidly growing cities such as Bengaluru and Mumbai where the major concentration of development is in the heart of the city. This is in contrary to regions such as Delhi NCR, Pune, and Hyderabad where the major commercial and industrial zones are in areas orbiting around the main city.
Given the gravity of the situation, there is an increasing need for alternative solutions for commute and transport that can address the problem.
To provide one such simple yet effective solution, Amit Gupta co-founded 'Yulu' – a highly scalable, affordable, efficient, and green mode for first and last mile connectivity, as well as short distance commute. He believes that this is a large social problem that needs to be solved with the help of technology and product innovation.
I had the privilege to engage him in a brief interview about his venture and the e-mobility sector, at large. To say that discussion was insightful would be an understatement.
After all Amit, a distinguished award-winning alumnus of IIT Kanpur, is also the co-founder of InMobi – India's first internet unicorn, and an active angel investor who is presently supporting 25+ startups across India and USA.
Following are some excerpts from our conversation on the topic:
—
Ranging from aggregator platforms to the electric vehicles ecosystem, the e-mobility sector in India is on a steady rise – in the form of awareness as well as adoption. In this context, what are your thoughts on the market potential of the sector? Are there latent needs existing in the market that will drive the growth of the sector? If yes, what are they?
Electric mobility is the future of the automobile industry and India is about to experience a revolution in mobility. The future of mobility is Smart, Shared, Sustainable and Small – and electric vehicles have a big role in this transition. Slowly but surely, e-mobility technologies are changing the landscape of India's transport systems.
Technologies such as cloud computing and IoT are prerequisites for a developed modern transport system and the onus is on India to adopt smart mobility to build sustainable and livable cities of tomorrow.
Increasing urbanization is leading to a higher density of vehicles on the roads, worsening the levels of pollution and making cities almost unlivable. Electric vehicles will be the future for basic reasons such as better quality of air. India's need for better first mile connectivity and last mile connectivity will drive the growth of this sector, leading to the development of smaller and efficient clean energy vehicles.
There is quite a lot of work happening across the e-mobility sector – public and private bodies included – but there inevitably exist areas that need to be addressed and resolved. Which of these accordingly to you are the most critical for the short as well as long term development of the sector?
Personally, I believe that first and foremost, change is needed in the mindset of people. Secondly, the partners of the e-mobility ecosystem must align their thought processes to encourage, advocate, and think ahead to invest in first mile and last mile connectivity.
We would like to urge Government agencies to come forward and provide solutions such as dedicated cycling tracks, charging stations in public places, etc. and to promote sustainable commute options. We feel that quality roads should be constructed and proper parking lanes should be built to adequately place the smart vehicles, be it cycles or e-scooters.
Among key stakeholders in the Indian e-mobility sector, there is the talk of developing the market as a leader from a supply standpoint, rather a demand one. Do you think that Indian players can scale up to achieve this goal of becoming a manufacturing and export hub for space, rather than being only a large consumption market? To do so, what will be needed – incentives from the Government and/or partnerships with other global firms?
 There is a larger belief that consumers will switch to clean mobility when they see many affordable options for the same. Price parity for EV with ICE (fuel-driven) vehicles can be achieved with economies of scale. Therefore, it is imperative that focus should be given to a supply-side market building.
We believe that the Indian market itself is a large enough opportunity and we can achieve our goal without the help of exports.. Export, however, can be the icing on the cake to get a further advantage in e-mobility and also, create jobs for the economy.
This adoption will become faster with incentives that can help bridge the cost between Indian produced and imported components. Indian OEMs can also do a fixed duration technology partnership to fast track their firm's R&D and localization of the manufacturing of all components.
Let's shift our focus onto startups leading the disruption in the mobility space. What led you to create Yulu? Taking into consideration all that we have discussed about the e-mobility sector, what makes Yulu's role and value proposition unique?
Air pollution and traffic congestion's impact on the environment were worrying trends that we wanted to address through technology when we set out to build this model. As the future of mobility is Smart, Shared, Sustainable and Small and with electric vehicles playing a big role in this transition, the idea of smaller and more efficient clean energy vehicles was an obvious choice for us.
YULU is revolutionizing the way people commute in India, enabling individuals to take eco-friendly rides at pocket-friendly prices and reduce carbon footprint. We have visualized a canvas which is structured to build and create livable cities of tomorrow, providing a hassle-free and affordable mode of commute. We are also helping the citizens to fight against the air pollution and lead a healthier life.
---
Enjoying this article so far?
You'd also enjoy reading: Sustainable Manufacturing And Remanufacturing In India: Are We Ready For The Change?
---
Given the incumbency existing with traditional (road) transport systems as well as the nascence of the e-mobility sector, on one hand, we have a consumer market with inhibitions (probably stemming from the lack of awareness/knowledge) to adopt and on the other, rudimentary policy frameworks and regulations. In starting and operating Yulu, what are the kinds of challenges that you faced with both? Have there been/are there silver linings in the journey?
At the time when Yulu started, there was no formal policy for the micro-mobility category. However, when 'Smart Cities' mission was getting formulated, the concept of Public Bike Sharing was endorsed by the Ministry of Urban Development, Government of India.
The objective is to provide low cost, environmentally friendly mobility options for a daily commute. Since the beginning, Yulu has been actively engaging with various stakeholders including city, state, and central governments to propose and facilitate the public policy formulation towards shared and sustainable mobility such as Public Bike Sharing (PBS) and Electric Mobility.
These policies should lead to the creation of NMT (Non-Motorized Transport) and vehicle charging infrastructure – areas where we need support and investment from city and state governments.
With the traffic congestion and air pollution at a very critical level, the government is paying attention to these key areas and any affirmative action around the same will prove to be a silver lining for our category. Apart from that, Yulu has also been able to get support from several corporate bodies such as Intel, Infosys, Wipro, etc. as well as local government bodies like CIDCO (Maharashtra), DULT (Bangalore), etc.
With shared mobility capitalizing on the attribute of convenience and with an increasing consciousness towards the environment coming to the fore, how do you see the demand market developing over the next few years?
 A growing number of young urban professionals do not consider cars as a status symbol and just hire a car when necessary. At the very core, it is all about a shift in cultural thinking, coupled with the global technology revolution around transport systems. In big cities, most people use public transport to travel more than 5 km distance, and micro- mobility is the only solution for solving the first and last mile connectivity problem.
We believe that a shared micro mobility platform will be a key element in any city to expand the use of sustainable modes of transport. Over the next few years, the transportation system is likely to see a major change and we will be seeing people upgrade their fuel driven vehicles to electric vehicles or shift towards shared mobility solutions.
Unlike the conventional ICE-based mobility sector which evolved in a top-down manner in its adoption, the electric vehicle sector has displayed signs of evolving in a bottom-up one; wherein the adoption of 2 and 3-wheelers will drive the change towards 4 wheelers and heavy vehicles. But particularly the potential of the first and last mile logistics industry from a B2B market point of view appears to be quite high. What are your thoughts on this? Is it an area Yulu is exploring or looking to explore?
With approximately 80% of the vehicles on roads in India being either 2-wheelers or 3wheelers, the adoption of e-mobility needs to be driven for these vehicle types only. Since there is predictability of usage and the operational costs play an important role for commercial use cases of mobility, 2-wheelers and 3-wheelers will be the first ones to transition from ICE to EV, if electric mobility becomes cheaper.
Also due to economies of scale,  commercial players in the market will be open to investing further in building the necessary support systems such as  a charging network to utilize electric mobility.
Currently, Yulu is providing solutions for the efficient movement of the people for short distances. In the long run, we would be open to exploring other use cases including the B2B segment.
Finally, as a seasoned serial-entrepreneur and an evangelist of the e-mobility sector what advice would you like to share with other individuals and businesses who are considering entering this promising and future-oriented sector? 
I would like to urge every individual to take a step forward towards building a sustainable environment. As far as entrepreneurs are concerned, I strongly believe that if you are passionate about this segment, then there are multiple opportunities to add value in this ecosystem.
The entire automobile industry is being redefined and incumbent won't be able to build all of the required components by themselves. They will be looking for suitable partners to expand into the EV sector – your start-up could very well be that partner.
About The Author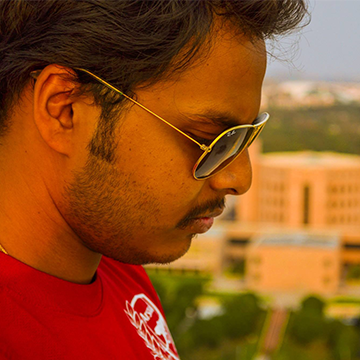 Shõan brings to the table an experience of over 12 years in building brands and businesses, including his own creative agency and a family-owned enterprise. An alumnus of the Indian School of Business, he leverages his design thinking approach, business acumen, and entrepreneurial experience to help companies – from across sectors – to understand consumer behavior patterns, explore new business opportunities, and enter new markets.