The Other Side Of India's Auto Sector Slowdown
It is believed that magicians used a beautiful (and at times, skimpily clad) girl as an assistant because she helped distract the audience from where the manipulation was actually being worked. And in the end, all that people saw was the 'magic' trick. But more often than not, the end act was still mesmerizing – a person sawed up in half or someone breaking out of locked-up chains without a key. Almost never was the finale dull and lacking charm, that it would let the audience down.
At a recent conference, FM Nirmala Sitharaman stated that the millennial mindset of using cab-hailing services such as Ola and Uber as one of the factors that led to present auto sector slowdown across the country.
"The mindset of millennials, who are preferring not to commit an EMI towards buying an automobile and instead would prefer to have Ola and Uber, and taking the Metro."

Finance Minister Nirmala Sitharaman, on discussing the country's auto sector slowdown and its factors
Inevitably (and possibly, rightfully), it invited a backlash from the social-media savvy millennials, with the quote becoming a victim to memes across platforms.
Because in a time when these same millennials are a majority of the urban working well-earning workforce and consumer-base, why the Finance Minister would make a public statement of this nature, is truly confounding – and bordering on appalling.
The Indian auto-industry has been at it with the Government for a few months now – with different Ministries and Government bodies proposing varying diktats on one hand to the counter coming from the industry either in the form of aggressive public statements by its leaders or with the latter throwing up its hands after having pulled on the empathic chords of unemployment caused by some of their factories 'temporarily' shutting down.
Now in all fairness, the FM did also speak of the role of registration costs and BS-6 implementation in context of the auto sector slowdown. And there are many in the industry who would strongly agree with this, because they have played a significant part – with Internal Combustion Engine (ICE) vehicle OEMs being afraid of losing market share to upcoming Electric Vehicle (EV) players because of tax benefits and subsidies to the latter; to not knowing what to do with the BS-4 inventory they would be stuck with in the advent of BS-6 rolling out.
But there are other factors too that have contributed in some measure or the other to the industry's current low.
The recent surge in the auto-industry, which Sitharaman pegged at the past 2 years, can be closely correlated to the rapid growth of businesses and aggregators deploying commercial vehicles (including the Ola and Uber-type businesses she spoke rather not-nicely of) across 2-wheeler, 3-wheeler, LMV, and HMV segments.
Auto-dealers are the OEMs customers – so, to cater to the increasing demand from vendors employed by the aggregators, bulk orders were placed, and the OEMs' sales exponentially went up. To fund these large procurement numbers, the dealers looked to Banks and NBFCs to finance the large transactions; which, of course, did pay out until the exaggerated valuations of some of these businesses started coming to light.
---
More on this on The Brief: Auto Sector Slowdown In India: How NBFCs Are Responsible
---
Today, these lenders are having their own issues and challenges that arose out of NPAs and high-value fraud cases. Particularly with the real-estate sector's negative impact on NBFCs resulting in the latter to clutch their monies closer to their chests. This is where things started entering, or at least adding to an already existing, downward trajectory in the industry.
But it would be incorrect to draw causality only between the lull in commercial lending and the auto-industry's current situation.
The recent policy sanctioning an increased load-carrying capacity for trucks would surely mean a lesser number of trucks needed for a company engaged in the business of transporting goods. The unprecedented monsoon flooding that occurred this year in regions comprising of, or in close proximity to, industrial zones and trade routes used by auto-OEMs to transport their inventory to dealerships, would impact factory operations.
And of course, the fact that globally the automotive sector is going through a slowdown, would lead multi-national companies of this industry to consider the role of their Indian counterparts and their global financial health.
So yes, there are several factors that have probably led to the Indian auto sector slowdown.
Now, to speak of the millennials and their 'mindset'.
Foremost, it is pertinent to understand that business models world over are changing; and 'shared' consumption and supply is becoming the norm with many new-age companies. This isn't about disruption alone; it is more to do with addressing a latent need for convenience as a deciding factor over most other considerations for the consumers.
And mobility is no exception to this – in fact, some would argue that shared mobility as a service is what acquainted most people and businesses to this concept which is asset-light and consumer-centric.
Shared mobility solves the end consumers' basic need for commute; and therefore many businesses of today are evolving into those which provide the solution as a service rather than a product. It is this same increased demand for shared mobility across Tier 1 and Tier 2 cities that led to the surge of demand for commercial vehicles.
As competition continues to increase in the shared mobility marketplace comprising of well-funded asset-light businesses, the benefit reaches the end consumer in the form of lower prices and increased convenience. There is literally no going back from this.
Today, there is talk and work being done on e-mobility and electric vehicles; not just in India but globally. This is the direction that the world is moving in, almost unanimously. Businesses that evolve and adapt will survive, and those that resist the change or drag their feet on efforts towards it, will get replaced by newer more-agile firms – it is the natural process of evolution that has always existed in the world of business.
So, while one could probably look at the slowdown as a 'correction' happening in this commercial-vehicle segment of the industry, the irony is that demand still exists and supply too is available. But the policy uncertainty prevailing – particularly on account of GST rates, emission norms, and the (almost unrealistic) deadlines being proposed on IC engines – has led to the dealers and the lenders being vary of investing in the wrong place. And one really cannot blame them. This is probably an issue that needs to be addressed first at policy-level by the authorities.
Finally, having postulated several causalities for the auto sector slowdown and to circle back the reference of a magician and his gorgeous attention-diverting method, can we look at the FM's (and possibly the Government's) stand on the prevailing issue as a diversion tactic that will lead to the presentation of a wow solution at the end of it all, or is it just another futile pointing-the-finger blame-game move?
Maybe H2 will show us.
About The Author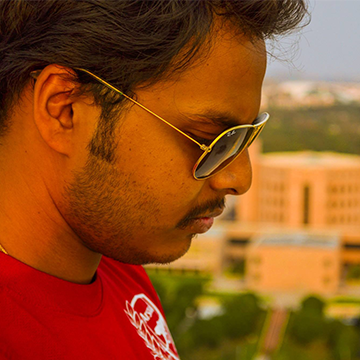 Shõan brings to the table an experience of over 12 years in building brands and businesses, including his own creative agency and a family-owned enterprise. An alumnus of the Indian School of Business, he leverages his design thinking approach, business acumen, and entrepreneurial experience to help companies – from across sectors – to understand consumer behavior patterns, explore new business opportunities, and enter new markets.