Highlights
With various countries going into lockdown, global supply chains have gotten disrupted and companies are re-looking at their sourcing and distribution ecosystems
The consideration to build purely deglobalized / regionalized, or at least secondary supply chains, is now being seriously evaluated by many multi-national companies
Manpower supply is going through a paradigm shift, with the gig economy becoming lucrative for white-collar jobs and migrant labour possibly getting restricted to certain geographic pockets
To get a real-world insight into what is happening with global supply chains, I spoke with Ehtesham Haque, Resident Director (India) for Digital Control Inc. (USA), who presently heads the American company's Indian and Chinese operations. From demand & supply challenges to what the future might be for manpower engaged in the ecosystem – Haque covers the various aspects of global supply chains that have are being affected by COVID-19 and the lockdowns.
The complete conversation with Ehtesham can be listened to in this podcast episode on the impact of COVID-19 on Indian Supply Chain.
---
Long-distance trade has existed in the world from somewhere around 3000 BC – starting in the form of barter, it has evolved into the trade we know today. But it was the late 1970s and early 1980s that made the world of trade drastically shrink, and localized manufacturing entered the realm of globalization.
This was when China opened up its doors to the world for outsourced and contract manufacturing. And since, over the course of 40 years, the once third-world developing Asian country became the world's largest manufacturing economy.
Those 40 years saw established companies from the rich, developed economies of the world, a little short of exploiting the hen that was laying golden eggs for them. And it wasn't China alone that benefited from this. The South-Asian region became a hub for outsourced activities as well – from manufacturing to knowledge and business processes (KPOs and BPOs).
The economic advantages of outsourcing the manufacturing of high-value items and expensive talent-based manpower tasks to countries where the cost of procurement, production, and trade were cumulatively lower, became the norm. So, at the cost of macro-economic risk mitigation, the large OEMs of the West opted for cheaper, efficient, and quick deliveries from their Asian sub-contractors.
And the countries to whom business was outsourced – well, they had tasted blood too. They bettered their processes to reduce costs and improve efficiency, instrumented more convenient bilateral trade agreements, exploited their abundantly available cheap labour, and made their economic machine function for optimized productivity.
Even in India, the year 1991 marked a historic day as the country liberalized various sectors to bring in private businesses and industries. With the new regime instated in 2014, the world's largest democracy brought into power an administration that aggressively marketed the potential of manufacturing in India – of 'Make In India'.
Fashioned along the lines of how China got about its exponential growth as an economy, the Indian manufacturing system was selling itself as the next best alternative to its eastern neighbours. The country was gearing up to help the economy evolve from being a developing one into an emerging one – and hopefully, into a developed, economic superpower.
So, what went wrong?
Nothing per se.
It is just that China understood that the path it was on would inevitably lead to a place that economists refer to as the 'middle-income trap'. So, in 2015, the country instrumented its 'Made In China' initiative – a plan to build (or acquire) in-house capabilities for R&D and innovation – the stages that actually precede manufacturing, for futuristic industries and technologies.
But it is this action by the world's largest manufacturer that also led to the developed economies of the West realizing that if things continued down this path, there would be some serious consequences on global economies, and in more likelihood result in a geopolitical shift of power.
China made it a quest to acquire IP (intellectual property) rights and patents for technologies, as the economy started preparing itself for its manufacturing future.
This is primarily what triggered the US-China trade sanction dispute in mid-2017 – and, of course, the realisation of how intricately China had woven itself into global supply chains. Or more specifically, American and European companies beginning to mull over the fact that putting all their eggs in one country, might not be the best solution going forward.
---
More on The Brief: Lockdowns And Work-From-Homes: A Shot In The Arm For The EdTech Sector In India?
---
But it is COVID-19 that became the proverbial slap-in-the-face for global supply chains. With many countries going into complete lockdowns – especially, with the manufacturing behemoth China shutting operations (even if temporarily) – the bottleneck and dependency of global supply chains on limited channels was not a consideration anymore; it became a reality.
Not to discount the fact that the pandemic took a huge toll on the lives of their people, the Western world started harbouring a sentiment of being displeased and of resentment towards China – particularly with the latter having allegedly withheld information about the virus outbreak.
For that matter, even in the far-East, there are increasing concerns about operating their units in China and risking the lives and business of their countrymen there. Thus resulted an increased talk of moving shop out of China, of going back to the good old days of localized manufacturing, of building domestic regionalized supply chain ecosystems.
But, maybe, the world's businesses have come too far, to go back 50 years. The economic advantages of a global supply chains are indisputable. So as patriotic as a de-globalized and domestically regionalized supply chain might sound – it is NOT the most economically viable and practical solution. After all, emerging economies do offer a lot more than just cheaper sourcing and production.
They remain a potent (and significantly large) market for business as well as reverse innovation, and economies of scale will have to be considered. Maybe it is a balance that is needed, or alternatives. To create a secondary layer in the supply chain ecosystem to ensure business continuity – rather than let everything grind to a halt.
And it is not the manufacturing aspect of supply chain alone, that is going through this massive change. Manpower supply will mean different things in a post-pandemic world.
On one hand there are the white-collar professionals who have become increasingly adept at working remotely. From upskilling with new capabilities and knowledge to advancing their tech-readiness and savviness, this segment of manpower might come out as clear winner in a world wherein the gig economy and contractual engagements become a widely accepted norm.
Because companies too are becoming adept at managing remotely-placed personnel as well as are realizing the benefits of having on board fewer but more skilled individuals, irrespective of their location; and not to forget the cost-savings in real-estate and administrative avenues.
On the other hand, the distribution and engagement of workforce comprising of shop-floor level employees and daily-wage labour might go through a very different transition. Especially in countries such as India, where this segment of manpower primarily comprises of migrants from rural and agrarian areas – the current impact of the lockdowns is having a much more detrimental effect.
Probably the worst affected from this global crisis, this section is going to exit the pandemic with a bad taste – and traveling back to distant industrial and commercial hubs might not happen very easily, or too soon. To add to this, Governments are inclined to do their best to protect the livelihoods of these sections of society – be it institutionalized schemes or basic sustenance provisions, thus making the incentive to migrate, all the more bleak.
And businesses will have to respond to this – even if it is for the short to mid-term. From learning to source, distribute, and manage their workforce better, to affecting infrastructural changes in the work environments for their employees – businesses will need to take some very difficult and expensive decisions. All of this, only to ensure business continuity.
The trade-offs existing in the world of supply chain – across the board and across the ecosystem, will lead to some immediate as well as some long-term changes in how (most) companies will do business.
Because this is the world we live in now – and as Ehtesham Haque put it:
Supply chain shocks are very real.
To get this real-world insight into how businesses are dealing with the current crisis that has maimed global supply chains as well as how they are preparing for a post-COVID scenario, I spoke with Ehtesham Haque, Resident Director at DCI India Private Limited. Through his two decades of work, he has been leading the businesses and operations that he setup of an American company (Digital Control Inc.) in India and China.
In our conversation, he shared some great thoughts on what might be in-store for supply chain (especially from an India context), as we deal with the existing crisis and consequently enter a post-pandemic world.
You can listen to the complete discussion with Ehtesham on any of our podcast channels below:
Castbox | SoundCloud | Spotify | YouTube
About The Author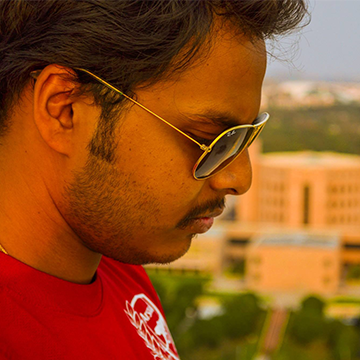 Shõan brings to the table an experience of over 12 years in building brands and businesses, including his own creative agency and a family-owned enterprise. An alumnus of the Indian School of Business, he leverages his design thinking approach, business acumen, and entrepreneurial experience to help companies – from across sectors – to understand consumer behavior patterns, explore new business opportunities, and enter new markets.