Range anxiety in electric vehicles has been a major cause of apprehension among consumers to make the switch from conventional vehicles to EVs. For those who are unfamiliar with the term, range anxiety simply denotes the apparent feeling that your vehicle may not be able to travel a given distance because it may end up running out fuel or in this case, battery power.
India, a country which plans to be at the forefront of making the much-needed transition to electric mobility on a large scale is no stranger to this problem but at the same time, it might just be one of the few countries which are actively making efforts to counter it, as well. With a pro-active involvement of the public and private sector, range anxiety in electric vehicles has been identified as a target area to overcome and it presents a massive scope of opportunities where India can collaborate with foreign as well as local industry experts in this space.
Effectively Tackling Range Anxiety In Electric Vehicles
To tackle this problem with a prototypical approach, the Indian project for National Highway for Electric Vehicle, namely NHforEV2020 has been put into initiation to electrify 2 major national highways, which includes the Yamuna Expressway from Delhi to Agra and the NH-48, which connects Delhi to Jaipur.
The sheer scale and ambition of this project is matched equally with the extensive work being done to make it happen and the opportunities it presents; including a systematic approach to resolve the issue of range anxiety.
The project proposes the installation of charging stations every 50 km on both sides of the highways in such a manner that in the unfortunate circumstance of a breakdown of an electric vehicle, the backup turnaround time will be a maximum of 30 minutes. To ensure this, the stations have been planned such that though the absolute distance between 2 adjacent stations on either side is 50 km, the effective distance between any 2 stations will be only 25 km. The project further accounts for emergency breakdowns by providing proactive response teams that will provide on-road assistance, with the initiative to dispatch a breakdown vehicle to help the traveler in distress.
These initiatives through the NHforEV2020 project will inevitably facilitate a quantitative jump in the number of electric vehicles that can commute on these highways in the future. To test the plan and hypothesis, the NHforEV2020 team carried out extensive workshops and industry research as well.
[blockquote align="left" author="Abhijeet Sinha, Program Director, NHforEV2020″]We have kept EV users, transport corporations and the fleet operators in center of NHforEV2020 framework to address their crucial challenge of buying EVs and operating them hassle-free on the road. Apart from the evident showcase of technology and ease of living, it also creates ~50,000 potential EV buyers every month who would use these vehicles as fleet or bus passengers, along with a robust plan for conversion of normal highways to electric corridors.
Primarily, its addressing the buyer's on-road insecurity by curbing the range anxiety in electric vehicles and the viability of an electric vehicle to their pocket by making the vehicle available to them at a 40% lesser cost. For investor PSUs or corporate entities, it's giving a self-sustainable model and one-time spend on capex and for the Government to facilitate such critical transition, our Ease of Doing Business division is providing Annuity Hybrid E-Mobility (AHEM) Model which has a proven track record of taking care of procurement to financing efficiently, inspired by Hybrid Annuity Model (HAM) for national highways projects.[/blockquote]
This model has been further taken to the next level by the plans of using a battery management system. This system can alert the upcoming charging station regarding a drop in battery power to analyze if the said car can cover the required distance to the charging station or if there's a need to dispatch an emergency vehicle for help.
As for local and foreign companies, this is an excellent opportunity to not only test the potential of the Indian market but also their new technologies to identify the best fit for India. And when we talk specifically about foreign companies, there exists a huge window of opportunity for them to enter the Indian market in the space of electric vehicle battery technology development, charging infrastructure installation, mobile applications and IT solutions that work as battery management systems and facilitate communication between the vehicle and the grid.
---
Enjoying this article so far?
You'd also enjoy reading: Electric Vehicles In India: Growth Over The Years And Future Opportunities
---
By entering into suitable partnerships with Indian manufacturers and distributors, or by establishing their standalone business entities, these foreign players can bring innovative solutions to the Indian market.
While entry into the Indian market is something which we've talked about in another article , the space and target area which a foreign company capitalizes on is also equally important. Here, companies like Panasonic have taken an initial step to develop charging stations via their new facility called Nymbus, which will be targeted to support smartE and qQuick's 3-wheelers and 2-wheelers respectively in the region of Delhi-NCR.
What this means for foreign companies is that they now have room to develop charging technologies and charging stations which can power heavy vehicles used for logistical purposes as part of the project, thus addressing range anxiety in electric vehicles in a commercial sector. When it comes to developing technologies for travel purposes, various companies such as Innolith (based out of Switzerland) have already announced ambitious plans to produce batteries which can provide ranges of up to 600 miles, something which even if taken with a pinch of salt, is an excellent opportunity to bring such a technology to India and implement it to address long-distance range anxiety.
Indian startups aren't far behind either in terms of bringing in innovation to the table. Log 9 Materials, a startup with ambitious attempts to develop a "graphene" battery that predominantly runs on air and water, has entered the market with the potential to be a game-changer. While they're currently looking to reduce the size of their prototype battery by 1/3rd, their technology to do something entirely out-of-the-box makes them pioneers in that space.
We understand and acknowledge that it's easier said than done, especially when it's about implementing and using an existing technology in a pan-Indian scenario. Simultaneously, we also believe that the optimistic approach and interest displayed by foreign and local companies in India's EV sector coupled with the Indian Government's support for these has a high propensity to make things tick and benefit the population at large.
This approach can tackle the issue of range anxiety in electric vehicles with efficacy and can, as a byproduct, incentivize companies to not compromise on innovation and ease of usage by the end consumer.
Have we finally reached the stage where we can effectively position ourselves as an EV hub? No. Are we on the right path? You bet!
About The Author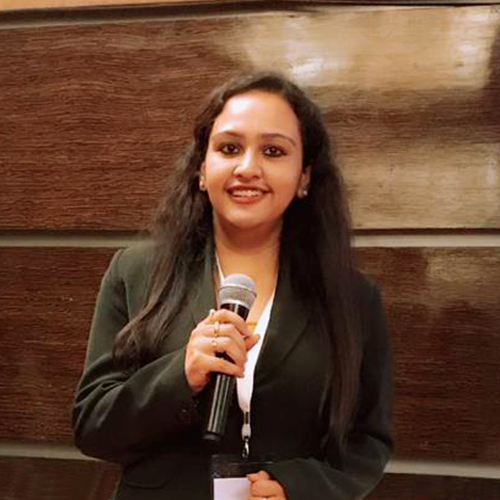 At the age of 26, Sukriti has 7 years of experience in the field of digital, social media branding and reputation management. She's a political analyst with prodigious knowledge in the field of election campaigns, especially related to war rooms and ground level booth management. Sukriti is also a motivational speaker for various start-ups and premier institutions, and her tech-savvy nature allows her to adapt with various upcoming trends and thus fit into the jar of a "New Vibrant India."