Electric vehicles (EVs) are a game changer; and not just because they present an engineering alternative to the traditional ICE engines. In their true essence, EVs sit at the core of redefining mobility at large – or in other words, they are central to the advent and development of e-mobility which is the inevitable future of commuting.
But to understand why electric vehicles present this huge opportunity to become an industry disruptor, it is important to know what has led to the present phenomenon that calls for the development and use of EVs around the world.
In reality, electric vehicles are not a creation of modern times. The first motorized EV was created by Robert Anderson in 1832.
However, the adoption of electric vehicles never came about for several reasons. While the rapid exploration of crude oil and subsequent development of an assembly line at Ford's factory in 1913 played a huge role, an inherent problem that existed with EVs back in the 1900s was related to technology. Back in the day, the large inconvenient batteries and unsustainable charging methods were a major hindrance for the widespread adoption of EVs.
But the story is very different today. Technology has taken ups forms and entered places in our lives that were considered impossible till a few decades ago. And this is exactly what has created room for the rise of a new format of EVs – with better optimized batteries and user-friendly charging systems.
Today's EV Ecosystem
Although EVs could not find a place in industry over the past 100 years, the different formats of motorized road transport utilities underwent significant refinement. Vehicles became more efficient, lighter, faster, and adopted quickly to the consumers' demands. This made the job half easy for EVs. Because now the question is only about changing the source of energy that the vehicles' need for functioning, i.e. from the combustion of petroleum to electricity. This solution came in the form of Lithium Ion batteries that are quite commonplace on account of the rapid penetration of hand-held communication devices around the world.
In fact, the continual technological advancements in chemical compositions of batteries and the sustained movement towards harnessing solar energy are presenting newer options for charging EVs. And to cater to these new energy storage options, battery charging systems are undergoing rapid developments as well. Today, fast and rapid charging processes are becoming the norm.
But what additionally works in favour of EV today is the incorporation of other technologies into the overall ecosystem, thus making it more intelligent and efficient. Human-interface innovations are changing the way of not only how the consumer uses the vehicle but also how she engages with it. To bring it all together, the near-global presence of the internet has made it possible for all the elements of the EV ecosystem to talk to and work in synchronisation with each other.
A New World To Explore
With this rapid evolution, the EV ecosystem is opening new avenues each day for the inclusion of new technologies into its fold. This in turn presents opportunities for established businesses as well as for new startups to develop solutions for pain-points that exist (and that potentially may exist) across the sector.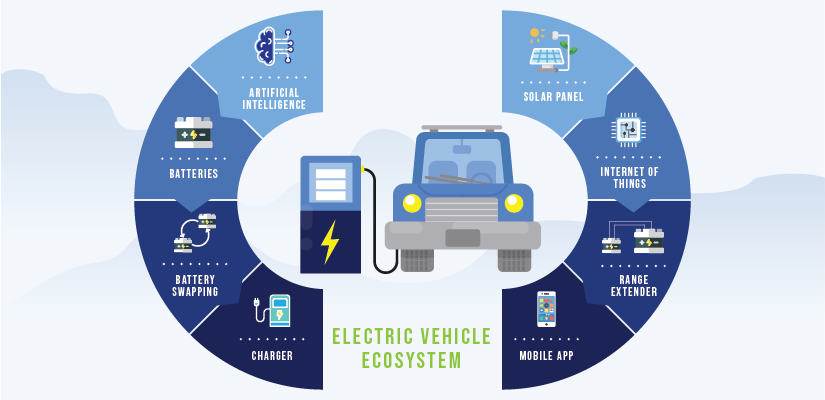 For example, let us look at two issues that are today considered as challenges in the adoption of electric vehicles:
#1. Range Anxiety
The ambiguity about and electric vehicle's ability to be driven for distances more than its battery's rated mileage on a full-charge is a concern for most consumers. But instead of answering the solution with a traditional approach of addressing just the problem – in this case, the battery – a more interesting way to develop a solution would be to look at the issue in depth – in this case, providing sufficient energy to the EV to be driven the needed distance.
---
Enjoying this article so far? Great!
You'd also enjoy reading: Infrastructure Sector In India: Growth Over The Years & Future Challenges
---
By providing a simple 'energy subscription' service, startups can penetrate into the consumer segment by enabling EV owners with the necessary electrification of their vehicles, wherever and whenever required. For this, existing solutions such as battery swapping techniques and range extenders can be used to ensure that a charged battery is always accessible to the electric vehicle. More advanced explorations in the space would be embedding photovoltaic cells into the body of the vehicle – along the lines of what Sono Motors is exploring with its car 'Sion'.
Additionally, by using Artificial Intelligence (AI) it is possible to not only monitor every functioning aspect of the electric vehicle but also to optimize its performance; while by using IoT (Internet of Things) it is possible for the EV to be in constant connect with its energy service provider. These are areas with tremendous potential for technology-based startups to add further value to the EV ecosystem.
#2. Charging Infrastructure
The existing provisions in the EV charging infrastructure requires the battery chargers to be connected into their local AC (Alternating Current) power grids to supply electricity. However, the batteries used in EVs require DC (Direct Current) for their charging. This implies a constant monitoring of fluctuations and impact to local power grids if there is surplus requirement arising from the simultaneous usage EV chargers.
Also, as electric vehicles get adopted across different segments of society for commercial and non-commercial purposes, there will be an inevitable demand on the energy sector to churn out more electricity as well as install new energy generation plants. The existing energy sector in most countries, including India, involves the usage of conventional sources for energy creation. Therefore, a sudden and exponential adoption of EVs can potentially lead to more damaging effects.
In fact, this is a counter argument against the claim that EVs cause 'no-harm' to the environment. The energy being used to run an EV (in most cases) comes from power plants burning fossil fuels, thus contributing the carbon footprint of the electric vehicle itself!
However, this potentially harmful scenario also presents an opportunity for companies and startups to explore alternative ways for: a) charging methodologies to charge EV batteries; and b) optimal utilization of charged batteries in the EV network.
The direct usage of photovoltaic cells (solar panels) at charging stations can solve a lot of problems regarding impact to local power grids as well as overall harm to the environment. However, existing technologies of solar cells will not be able to meet the needs of the EV sector in entirety. This an opportunity that startups can capitalize upon to not bring about a disruption in the EV sector but the overall energy sector. To a large extent, significant R&D is underway at institutions around the world – including leading knowledge centres such at IIT Chennai in India – to better solar energy technologies with EV usage in mind. The key here will be to find ways for the commercial implementation of institutional research.
In Summary
As in the case of every new sector's creation, there are noteworthy challenges for the systematic and sustained growth of the electric vehicle industry. But to find ways to overcome these industry pain-points, our learnings must come from those tech-enabled startups that not only disrupted their incumbent sectors but also created room for new innovations. The electric vehicle sector is no exception when it comes to such promise for disruption. From the vehicle itself to the many ways technology can be incorporated into the overall ecosystem, the sector is potent with avenues for startups to setup and grow their businesses.
But because the sector is its growth phase, it is also critical to tread with caution. The pace of technological advancements in the sector imply that significant investments today might become redundant tomorrow. Incidentally this is also where startups have an added advantage over larger established players, owing to their flexibility from their organisational size and structure. Therefore learning the market, forecasting trends, and implementing a financially structured business model are capabilities startups will need to learn before diving into implementation in the EV sector.
About The Author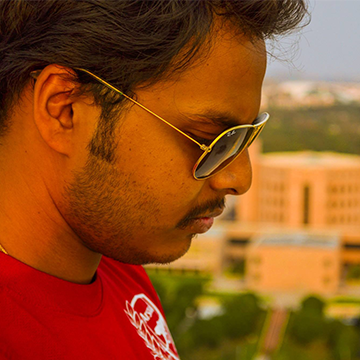 Shõan brings to the table an experience of over 12 years in building brands and businesses, including his own creative agency and a family-owned enterprise. An alumnus of the Indian School of Business, he leverages his design thinking approach, business acumen, and entrepreneurial experience to help companies – from across sectors – to understand consumer behavior patterns, explore new business opportunities, and enter new markets.